Made to Model Photo Contest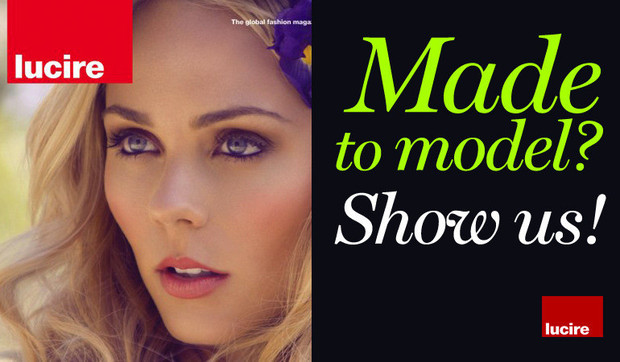 Terms and conditions
• The competition ends on the date stated at the Promoki website.
• Models should be over 18.
• It's up to the winning model to travel to Wellington, New Zealand for the shoot, and this must be redeemed before 2013 finishes.
• Beauty prizes are for New Zealand addresses only as we aren't permitted to ship these overseas.
• While we anticipate publication of the winning photograph in our print and tablet editions, as well as online, we reserve the right to publish it online only, especially if technical specifications force us to.
• Prizes will be sent via email in some cases to the winners' one nominated address. It's up to the addressee how (s)he wishes to distribute those prizes among the crew.

For full details check out: http://lucire.com/2013/0423ll0.shtml
Lucire is looking for New Zealand's next face for fashion.
This is a model search photo contest, so if you think you were made to model -- show us!
How it works
1) Take a photo and enter the challenge.
2) Promote your entry on facebook and twitter and encourage people to vote for your entry.
3) The most votes will win the challenge. Simple!

Lucire, one of the most innovative fashion titles, was New Zealand's first commercial online fashion magazine and is looking for the next face to appear on a page of one of its print issues later in 2013.
The magazine will also profile the winning team: model, photographer, stylist, hair and make-up crews, along with the published photo or photos -- so if you've got a crew, you all get some love.
And to make it extra-sweet, there are these prizes for first, second and third from some of our fashion brand sponsors.
Rules
---
Terms and conditions
• The competition ends on the date stated at the Promoki website.
• Models should be over 18.
• It's up to the winning model to travel to Wellington, New Zealand for the shoot, and this must be redeemed before 2013 finishes.
• Beauty prizes are for New Zealand addresses only as we aren't permitted to ship these overseas.
• While we anticipate publication of the winning photograph in our print and tablet editions, as well as online, we reserve the right to publish it online only, especially if technical specifications force us to.
• Prizes will be sent via email in some cases to the winners' one nominated address. It's up to the addressee how (s)he wishes to distribute those prizes among the crew.

For full details check out: http://lucire.com/2013/0423ll0.shtml